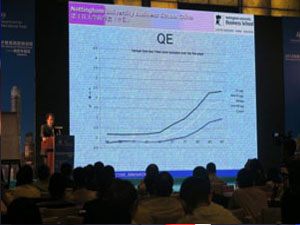 On 10 October, Geraci participated in 2016 China-UK Financial talent education advanced training course.
Geraci discussed how the existence of the euro is taking away flexibility from the individual countries to adjust the monetary policy according to their needs.  He said each country should have its own independent monetary policy. But in Europe, because there is a central bank, Frankfurt was trying to find an average rate that makes everyone happy.  Since no country is in average, the rate set by the European central bank is too low for some, too high for others, so every country is unhappy.
Geraci then discussed the regulatory and competitive environment in the European banking sector. He said the regulatory framework limits the possibility for banks to leverage up and therefore caps the potential return on the investment. At the same time, the lack of profitable investment opportunity basically keeps corporation away from borrowing money, so even if the interest is low, even if the central bank does QE policies to lower interest rate, corporates do not borrow money because they don't have any good investment ideas. And the bank balance sheet is unbalanced. They have lots of customer deposits because people still put money into the bank account, but they do not lend money out because corporates do not borrow from banks.
Finally and more importantly, Geraci mentioned to the audience – composed by government, insurance and banking representatives – the case of Italian Bank Monte dei Paschi di Siena (MPS), as a potential and interesting M&A target for a Chinese buyer.
MPS is one of the oldest banks in Italy, headquartered in the city of Siena, Tuscany.  The acquisition by a Chinese buyer would make sense along four dimensions: economic, geography and cultural affinity and political. 1) MPS needs an equity infusion of around Euro5bn and a Chinese buyer could invest around 1.5-2.0bn to take a minority stake. 2) MPS headquarter in Siena is near Prato, a city populated by hundreds of thousands of Wenzhou migrants. 3) Italian prime minister is himself from the same area and has the future of MPS at heart. More than 50,000 job are at stake should MPS go down and Mr Renzi would strike a great political and economic victory if MPS could be saved. The acquirer – the 'Saviour' – would surely acquire goodwill in the eyes of the Italian government, just as China looks at Europe with growing interest.