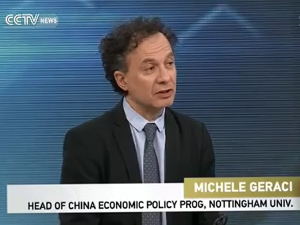 Geraci and Prof He Weiwen from Renming University were guests at CCTV Dialogue on 25, November, 2016. They discussed three main topics: Shanghai free trade zone, RMB internationalization and Trump's impact on china.
While talking about Shanghai free trade zone, Geraci said it is very challenging to set a free trade zone where financial services play a big role and yet has no borders with the rest of the country, as it is for Hong Kong, for example.
In terms of RMB internationalization, Geraci talked about China entering WTO as an example. In 2001 when China was granted to enter WTO, China promised to meet certain milestone. But 15 years later, people are still debating if certain article should allow China or not to be recognized internationally as market economy. Now people are evaluating the RMB entrance into the SDR basket. It's same for SDR, It is a recognition that China is moving but it has no practical implication. It is on paper, and it is not in practice.
There are two things that Geraci has been looking at during the last two weeks since the election of Donald Trump. One is when Trump was doing the campaign, he was very anti-China and promised to increase the tariffs for Chinese Import. It is a rhetoric that is normally done when you talk to your potential electoral basis. Once you become president, you cool down, and that what's has been done already. He is mainly trying to target US companies that have outsourced to China. For those companies, trump is trying to say to them, if they outsource, and kill jobs in US, for example they produce products in China or Vietnam and sell those products back to the US, and he will impose a tax on them, which is 30% or 35%. The rest he may just forget it. Therefore, the impact on Chinese exporters may not be as large as originally anticipated. The other positive news is: In Trump's speech, he said "Infrastructure second to none". We know China has the best infrastructure today. We can think of how much investment has been made in railways, bridges, steel….there are significant overcapacities that China can export to the US.
[huge_it_video_player id="13″]