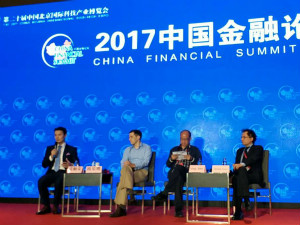 Geraci attended China Financial Summit 2017 conference, today in Beijing. Other guests include Tom Orlik, Chief Asia Economist, Bloomberg LP; Ren Zeping, Chief Economist, Founder Securities; Fang Sihai, Director of the national Financial Security Committee, Tsinghua University. Below is a short summary of Geraci's speech at the conference.
Foreign investors are a little reluctant to invest in the Chinese market especially A-Shares, because they are afraid of the lack of transparency in company reporting, continuously changing regulations that change the rules of the game along the way, and the always present probability that RMB exchange rate may have step changes that could wipe out most of the gains. Therefore, even if there are small percentages of portfolios invested in A-Shares, these are still considered high risk low weighting investments.
With regard to investments in the bond market, in response to other speakers' comments that claimed interest rates in China are attractive because they are higher than those in the West. Michele's answer is "yes, they are higher, but it is not the fair comparison. The real question bond investors should ask is 'are interest rates in China high enough to compensate for the risk?' The answer is no. Because the interest rates should be at the same level as GDP growth rate—something in China does not yet happen, although the two lines are starting to converge."
On the issue of Silk Road: Keeping in mind that the goal of the AIIB is to gain financial returns, it is not easy to see how many of the silk road goals can be achieved. On one hand, China can successfully export its infrastructure development model because China is the only country that can mobilise capital, people, raw materials and know-how. It did it very successfully in its home country. But when it comes to exporting it to foreign countries, it becomes more difficult when dealing with foreign governments, who have no control over infrastructure development.
The final point is: the Silk Road is always being discussed as one-way road from China to the West and we have never seen in any maps arrows going from the West to China. That would be a welcome development because that would claim One Belt One Road initiatives is not only about China going out but it is an initiative that can bring advantages to both parties in both directions.