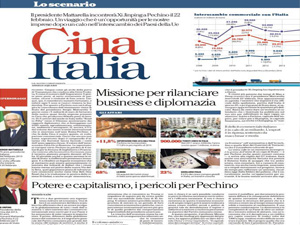 Italian newspaper la Repubblica today reports about the growing interest of Italian government towards China. Presidents Mattarella will shortly visit China, and this follows quite frequent visit by undersecretary of development Mr. Scalfarotto. 
Cinque come gli archi della porta di Tiananmen che conduce alla Città Proibita, 5 come il numero dell'Imperatore: 5 giorni pieni pieni, al netto ovviamente di partenze, ritorni e rimbalzi di fuso orario. Cinque, qui, è considerato numero fortunato, e infatti ogni 5 anni si (auto) rinnova la leadership. Per questo a Pechino non sarà sfuggita la coincidenza dell'imminente visita di Stato del presidente Sergio Mattarella: 5 giorni come i 5 miliardi di euro di fatturato delle nostre quasi 2mila imprese presenti in Cina che producono 60mila posti di lavoro. O i 5 settori del made in Italy nella "Road to Fifty" verso il 50esimo anniversario dei rapporti diplomatici che si festeggiano nel 2020: sanità, agroalimentare, urbanizzazione, ambiente e aerospazio. O, ancora, il 5% del volume dei nostri scambi internazionali che si muovono sull'asse Roma-Pechino: e che fa della Cina il nostro quinto, et voilà, partner commerciale. Certo che ancora non basta: soprattutto dopo il campanello d'allarme che Eurostat lancia facendo i conti dell'anno appena chiuso. Il valore dell'interscambio Cina-Ue in flessione. Le esportazioni europee verso Pechino in perdita di 4 miliardi per la frenata di Inghilterra e Francia: che insieme alla locomotiva Germania sono il terzetto piazzato proprio davanti all'Italia. D'altronde anche a questo servono le visite di Stato: a riaffermare presenza e immagine. E a ribadire un legame economico che al momento può essere potenzialmente rilanciato dai miliardi di dollari che i cinesi hanno messo sul piatto della nuova Via della Seta, quel gigantesco piano di infrastrutture conosciuto anche come One Belt One Road che è la traduzione in pratica della visione Sì Global, e anche un po' sinocentrica, che il presidente Xi Jinping ha rispolverato a Davos.
Il cinese più potente dai tempi di Mao e Deng riceverà ora il presidente Mattarella mercoledì 22 febbraio. Due appuntamenti in agenda: l'incontro che segnerà il via ufficiale della spedizione, partita dall'Italia il giorno 20, e poi il pranzo di Stato dove, si sa, vengono apparecchiate le questioni più delicate. Basta del resto dare un'occhiata al calendario che il Quirinale ha pubblicato sul suo sito per individuare in ogni tappa un obiettivo. Subito a Pechino, capitale dell'impero, per volare poi a Shanghai, la capitale finanziaria, ma anche a Chongqing, la "nuova frontiera" dell'automotive e dell'hi-tech, fino a quella Xian dei Guerrieri di Terracotta che è il manifesto culturale di qui.
La visita cade in un momento strategico: è la prima dell'anno di un capo di Stato — e per Pechino anche questi numeri contano — e arriva alla vigilia del G7 italiano. Sarà anche una sincronicità fortuita ma premia il Sistema Italia di quaggiù che tra ambasciata, rete consolare, Ice e camera di commercio, ma anche tante imprese, associazioni o singoli sintonizzati sul progetto, lavora da tempo per rafforzare un'amicizia, riscaldata oggi dalla febbre del pallone, che è naturalmente anche un'opportunità per entrambi. E le buone notizie arrivate alla vigi- lia sono almeno due. La prima: malgrado il calo dell'interscambio e lo squilibrio su investimenti e import-export, il deficit italiano è comunque in contrazione di un miliardo. La seconda: se continuiamo a esportare soprattutto macchinari (34.6%, + 0.47%) e moda (15.8%, — 1.19%), il business in cui cresciamo a due cifre, grazie anche all'e-commerce e a un accordo con Alibaba, è quello tipicamente italiano del vino (+11,8%). E le potenzialità lì sono enormi visto che nel mercato più grande del mondo abbiamo finora patito dietro Francia, Cile, Australia e Spagna.
Naturalmente quando si parla di investimenti il discorso è sempre reciproco. E qui i numeri non sono fortunati per niente. I cinesi in Italia comprano sempre meno. Tre anni fa avevano saggiato il terreno mettendo un po' di soldini dentro Fca, Telecom, Eni, Enel, Generali, Terna, versando 400 milioni in Ansaldo Energia e la bellezza di 2,81 miliardi nella Cassa Depositi e Prestiti nonché bevendosi pure l'olio di Filippo Berio. Nel 2015 il boom, con gli 8,8 miliardi pagati da ChemChina per Pirelli. Poi, l'anno scorso, niente. Che succede? «Bisogna essere pratici su queste cose», dice Michele Geraci, ex allievo del Mit che dopo avere affilato gli artigli in Merrill Lynch e altri big di Wall Street oggi insegna tra Nyu, Nottingham e Zhejiang University: «Io chiedo sempre senza girarci intorno: che cosa vogliamo venderci? Che progetto abbiamo?». Le occasioni per richiamare l'attenzione di Pechino non mancano. Qui, per esempio, si parla da troppo tempo dell'ultimo miglio della cosiddetta via della seta marittima: i cinesi, sì, si sono già comprati il Pireo, ma davvero l'Italia non può offrire nessuna alternativa lungo il suo Adriatico? Non è un caso che il presidente sarà accompagnato, insieme al responsabile della Farnesina Angelino Alfano, dal ministro delle infrastrutture Graziano Delrio, che rappresenta dopo il premier Paolo Gentiloni quella continuità così preziosa per Pechino tra questo governo e l'esecutivo di Matteo Renzi, l'unico premier occidentale a essersi incontrato due volte in tre mesi con Xi. Spetterà adesso al Business Forum presieduto da Marco Tronchetti Provera e al Forum Culturale di Francesco Rutelli squadernare i tanti affari da discutere quaggiù. E la presenza di Ivan Scalfarotto, il sottosegretario al commercio internazionale ormai alla sua quinta missione in Cina, lascia pensare che il governo sia anche pronto a metterci le firme: per una volta, si spera, anche più di cinque.
Angelo Aquaro