Minister of Industry and Information Technology, Miao Wei, during the National People Congress said that China welcomes foreign companies to compete openly with domestic companies within the framework of CM2025. He said the market is going to play a significant role in company selection and resources allocation. All companies will be treated equally. "Adhere to the government-led, market oriented" is the principle of CM 2025 initiative. In his speech, he also praised the long term cooperation and contribution to Chinese development over the past few decades.
My comment:
Foreign direct investment in the manufacturing industry has peaked in 2011 at 50%, and since then declined to reach 43% in 2015. Worth noticing is how the proportion of foreign direct investment in the service industry has grown substantially over the last five years.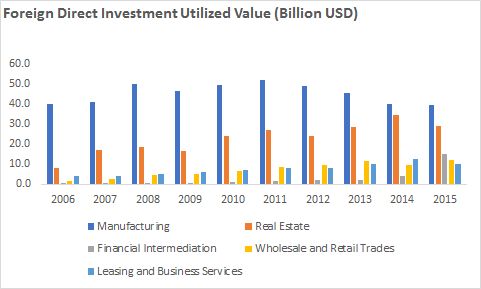 Even if the contribution of the service industry to total China GDP has been growing over the last few years, the worrying thing is that the manufacturing growth rate has turned negative for the first time in the several years. So in order to keep GPD growth high, the growth rate in service must be even higher than what currently is. This is a big challenge, hence the shift of China manufacturing 2025 more of as a necessity to keep GDP growing by pouring the investment into secondary industry, which would otherwise turn negative.