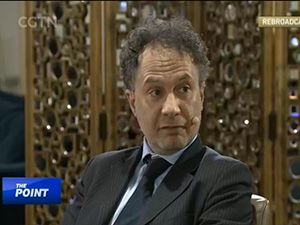 Michele Geraci was a guest of "The point with Liu Xin", together with Charles Liu, Clare Pearson, Xiang Songzuo, Wu Weijun and Timothy Stratford to discuss Trade issues, Silk Road, Investment opportunities.
In 2017, one of the biggest issues that the world will be facing is trade war, especially between China-US.
President Xi and Trump have different views. Xi strongly encourages free trade between countries while Trump stresses the importance of fair trade. Michele Geraci has an even different view from both of them. He thinks that opening up trade and lowering trade barriers, in general, would benefit both countries involved, on average, but the problem is that these benefits are not always redistributed fairly within the country. For example, the US has a trade deficit; why is it better to keep its door open with a negative trade balance than to shut the door? It is because on average, the US economy will grow, benefiting from international trade. However, that growth gets concentrated in the hands of a few people. In the long term, the whole country benefits, but in the short term, people lose jobs and they get angry.
[huge_it_video_player id="24″]